Happy June, fashionistas! It's almost summertime…and the livin' (and stylin') should be easy. While our 2020 spring spent in quarantine has been anything but a breeze, we're officially ready to break out of our loungewear and all-day pj's…and into freeing, loose-fitting and eclectic-chic BOHO pieces!
Festival wear comes in all shapes and sizes (and worldly prints, colors and hemline cuts) and is so fun and easy to mix, match and make your own. So kick back and relax: it's time to feel that summer ease with 5 flowy, free-spirited styles ahead! 🌞    
---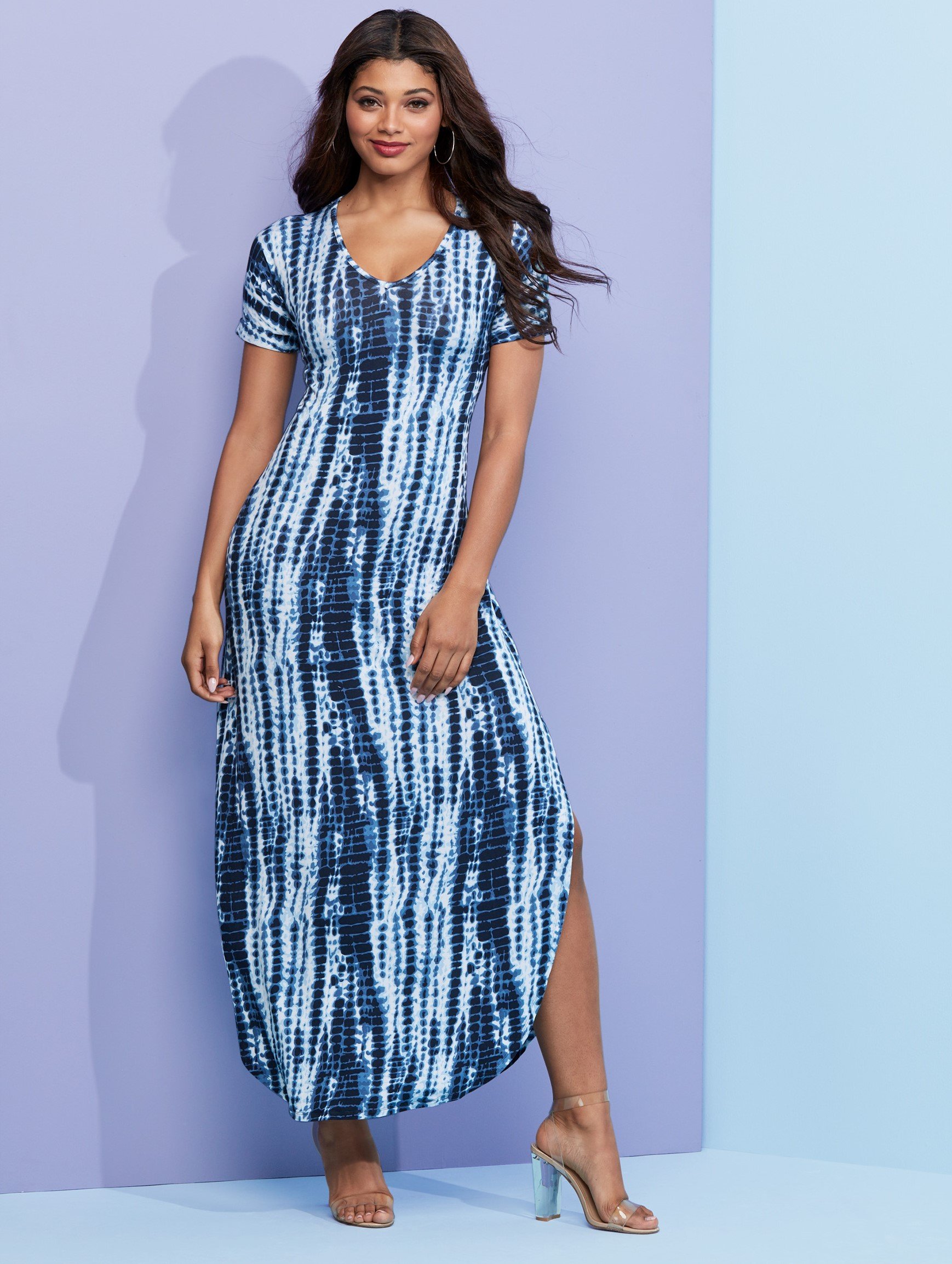 SUMMER DAZE: T-Shirt Maxi Dress
Dive back into the hippie trend in this easy, breezy, beautiful boho dress! Mesmerizing tie-dye waves of deep blue, cerulean and white and a soft, moves-with-you flowy material will make you feel like you're wrapped up in the ocean *and* your fave lived-in DIY tee. How cool is that?

Dramatic and zen rolled into one, you can feminize this dress with a waist belt and jeweled espadrille wedges—or embrace its laidback grunge vibes with two-band slides, Ray-Bans and a black backpack to hit the beach.
---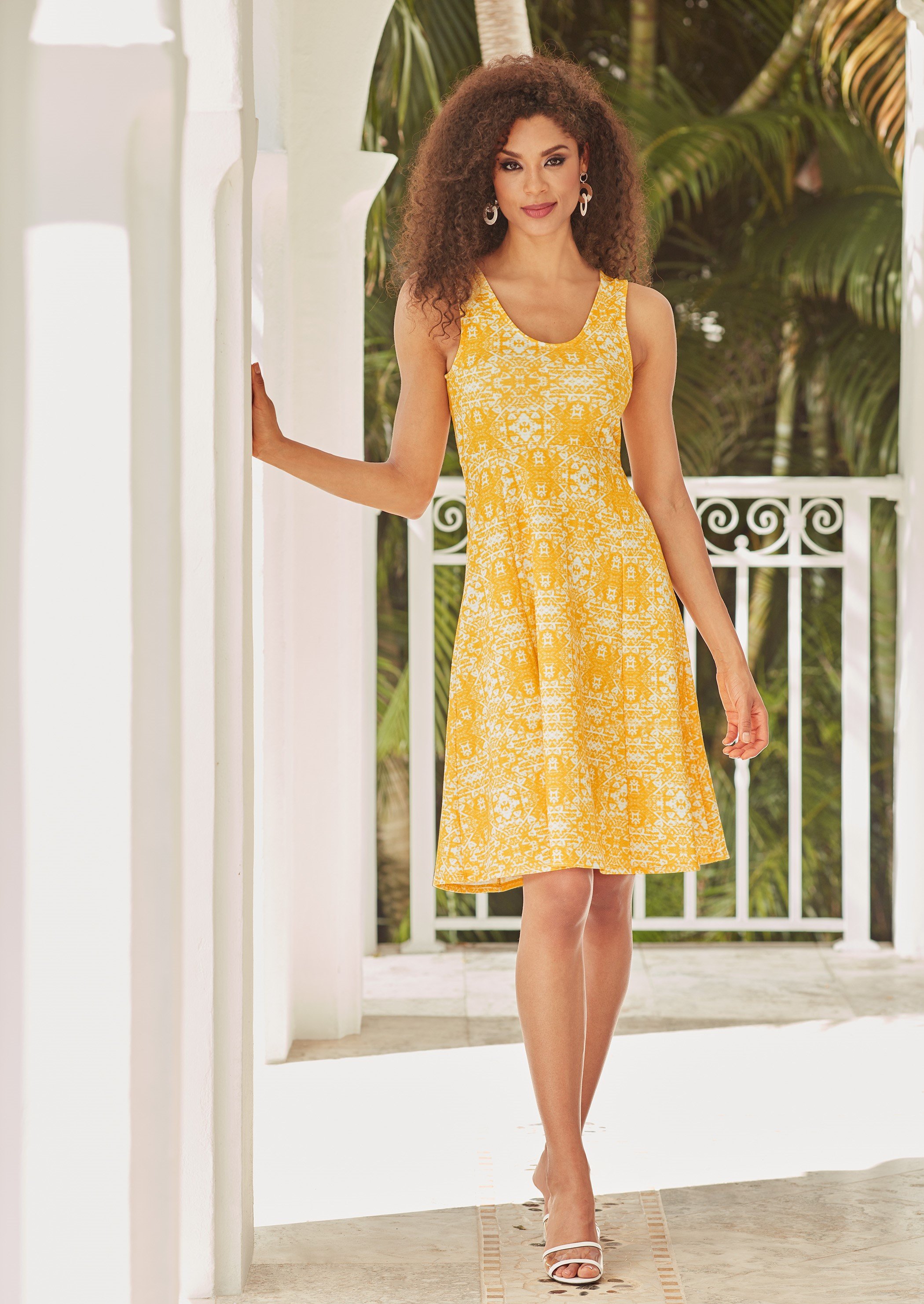 STUN IN THE SUN:  Go Figure Fit-and-Flare Dress
*HELLO sunshine*  Now here's a yellow dress that'll impress every woman (at any age)! A classic fit-and-flare silhouette slims and accentuates in all the right places, while a yellow and white ikat print adds a fresh boho twist. And the poly/spandex material makes this dress super soft and light…and a delight to wear.   

For a summer soiree or date, add chunky white statement jewelry and sky-high heels. Or dress the lemonade-shade down with an open denim jacket and espadrille flats. Accessorize with a smile, and you're golden!
---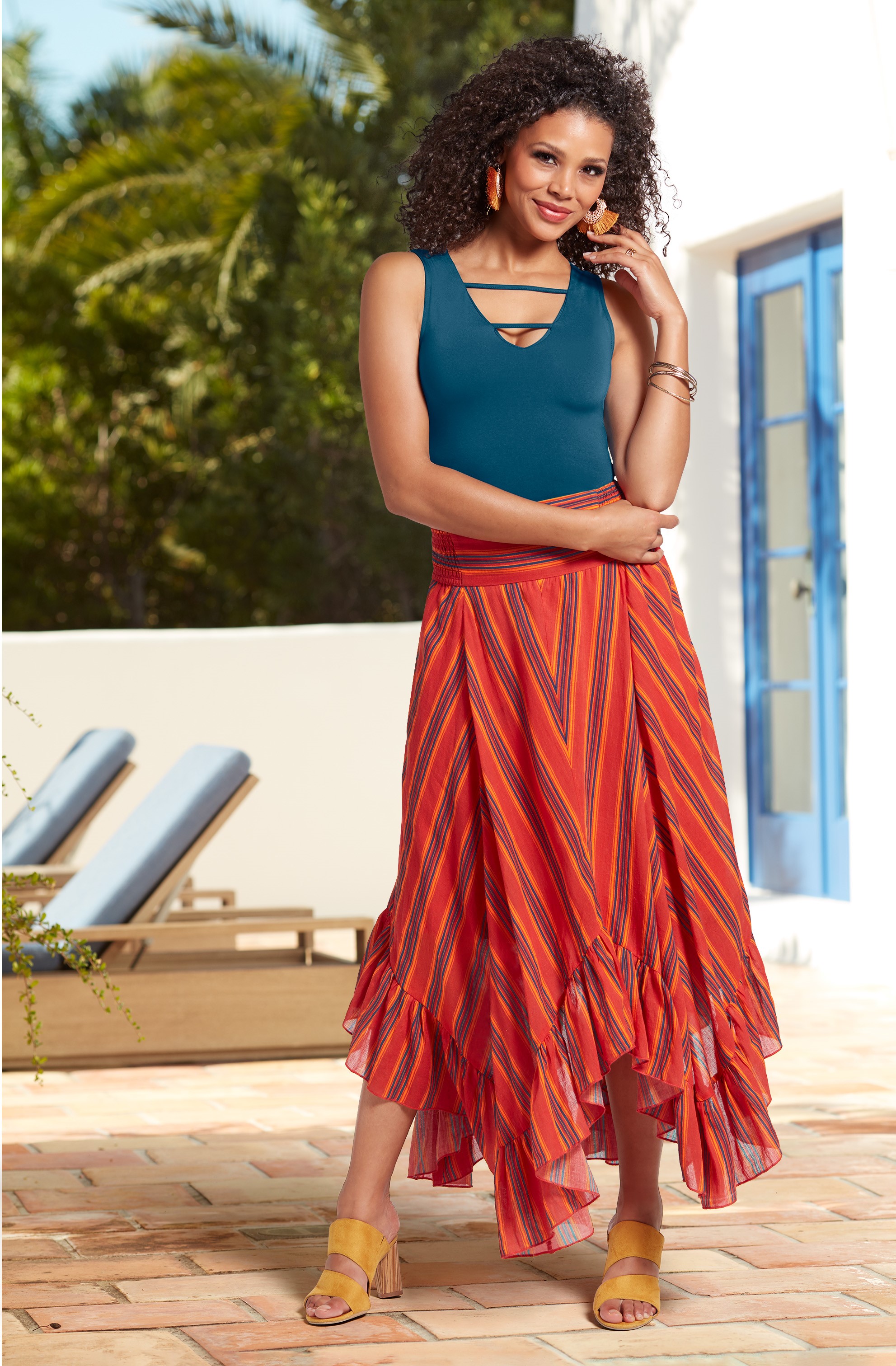 HEAT WAVES:  Rumba Skirt
A whole new 'whirl'! Trade out the mini for this bohemian-dream midi skirt. From the handkerchief ruffled hem to the canyon-sunset palette, this skirt is rich in depth, yet still ultra-light and flowy for hot summer days and nights.

Tuck into a simple white tank and add height with block heeled sandals. And don't be afraid to broaden your style horizons: blend in blue and marigold pieces to match the chevron stripes, or mix in organic jewelry with feathers, chunky beads or tassel accents. New Americana, here we come!
---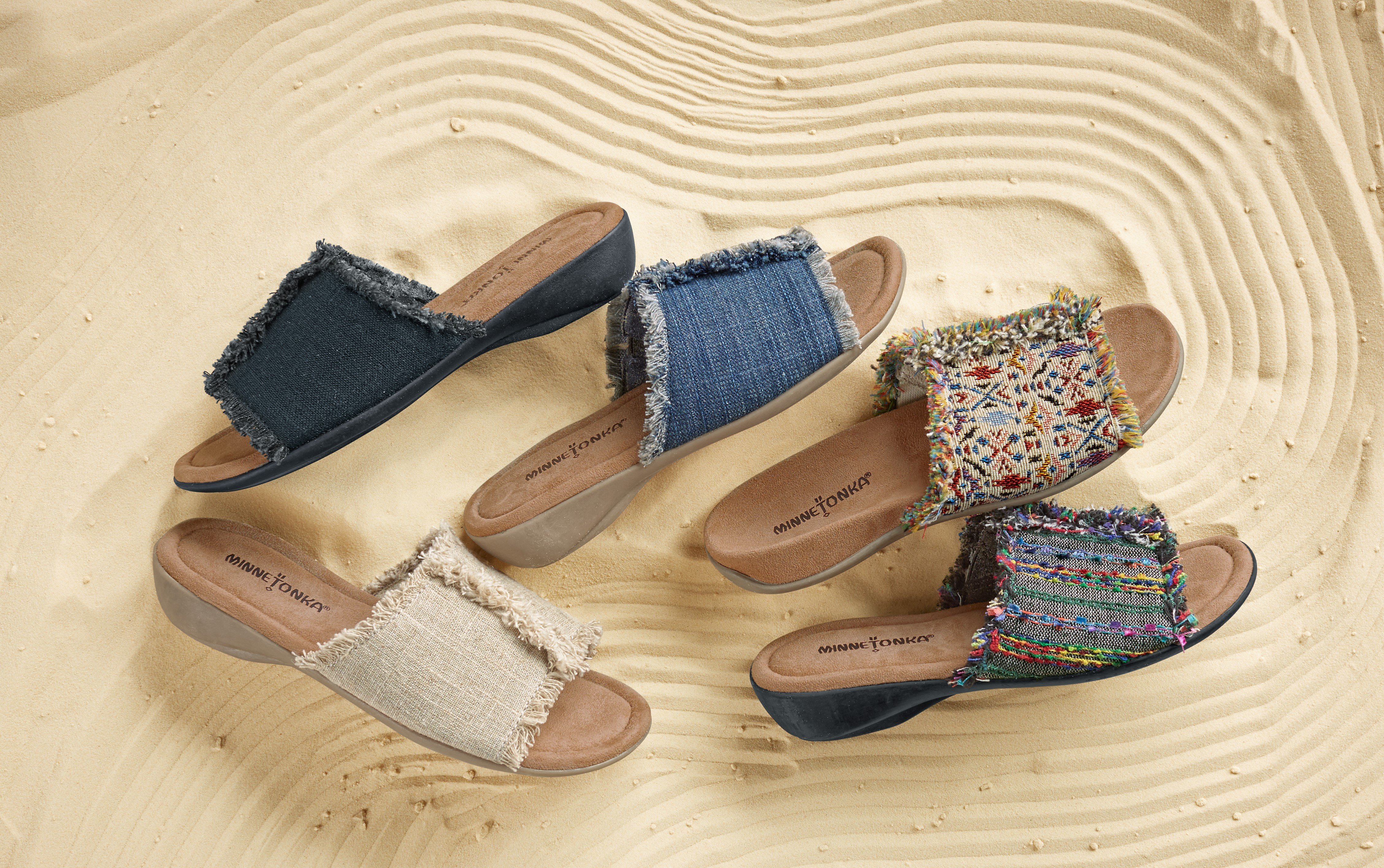 DOWN TO EARTH: Minnetonka Samara
A shoe that naturally goes anywhere, with any wear! Even though 2020 has shaken our worlds, these earthy, eclectic slides will always make you feel and look grounded—inside and out. You'll love the linen-burlap fabric upper as much as the fun touch of fray (giving *all* the mod farmers market style vibes).

Match with deconstructed jeans to summer dresses. And cuteness aside, a velvety footbed and flexible sole make this pair a summer treat for your toes and soles—for wandering near, far or in your own backyard.      
---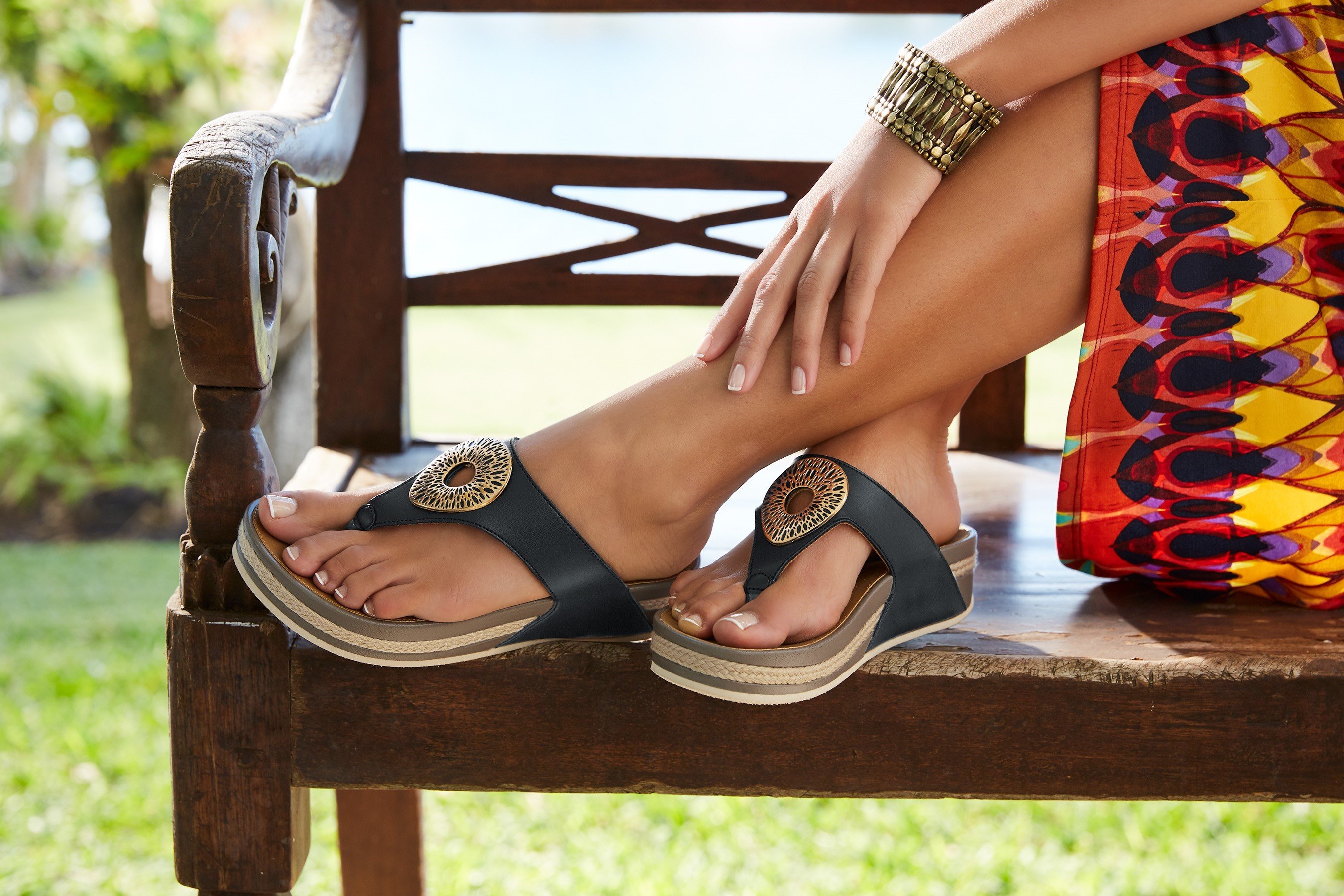 GLOBE-GETTER:  Wanderlust Bessy
Whether staycation or island getaway, these understated boho-glam sandals will visually take you there! The 1-¾" wedge adds just the lift you need, while the mix of natural jute trim and the gleaming hardware medallion "sun" will make you feel like a coastal goddess.

Pair off with a fringy kimono and cutoffs, or your fave black bathing suit. Top with a wide-brimmed hat and bold coral pedi, and you're set. Goodbye, basic flip-flop…we're living on the wedge!
---
We hope we  'swayed' you to explore all the beautiful, billowy free-spirited pieces out there! And don't be shy—spread the style  love and show off your own flowy summer fashions with us on Facebook, Instagram and Pinterest 🌻